Realty Income | Monthly dividend up 5.1% in 2021
Dividend Aristocrat Realty Income has raised its dividend by 5.1% in 2021
Monthly dividend paying real estate company
Realty Income
has just announced the 5th increase in 2021. Shareholders will receive a new monthly payment of $0.2465. This year the dividend has been raised by a total of 5.1 percent, based on five smaller dividend hikes.
Another dividend hike for Realty Income, this time with a smaller 0.2 percent increase bringing the monthly payment to $0.2465 per share. Normally Realty Income, a Dividend Aristocrat, announces several smaller 0.2 percent hikes every year with one bigger increase.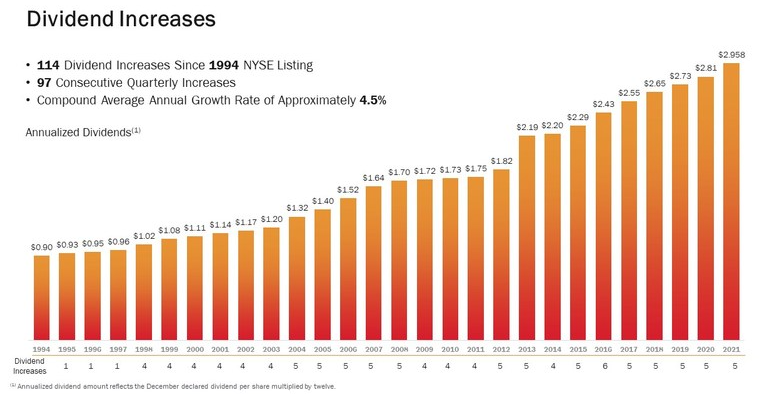 Realty Income keeps raising its monthly dividend (source: @dividendhike)
Realty Income has raised its dividend 27 consecutive years with multiple increases annually. The REIT now pays an estimated $1.6 billion in dividends to shareholders with an average annual dividend growth rate of 4.0 percent in the last five years.
"As we approach the end of 2021, I'm pleased that our Board of Directors has once again determined that Realty Income can increase the amount of the monthly dividend," said Sumit Roy, President and Chief Executive Officer of Realty Income. "This will be our 114th dividend increase since 1994 and is in line with our mission to invest in people and places to deliver dependable monthly dividends that increase over time. With the payment of the January dividend, we will have made 618 consecutive monthly dividend payments throughout our 52-year operating history." (source: Realty Income press release December 16, 2021)
The next O dividend is payable on January 14, 2022 to shareholders of record as of January 3, 2022. This is the 114th dividend increase since Realty Income's listing on the NYSE in 1994. The ex-dividend date for January's dividend is December 31, 2021. The new monthly dividend represents an annualized dividend amount of $2.958 per share as compared to the current annualized dividend amount of $2.952 per share. The dividend yield for Realty Income is 4.4%.
Several other Dividend Aristocrats announced a dividend hike this month, including Franklin Resources.
Realty Income, The Monthly Dividend Company®, is an S&P 500 company and member of the S&P 500 Dividend Aristocrats® index. The company is structured as a REIT, and its monthly dividends are supported by the cash flow from its real estate properties owned under long-term lease agreements with commercial clients. Realty Income's properties are leased to clients in the United States, Puerto Rico, the United Kingdom and Spain. The majority of its properties are leased to retail clients that have a service, non-discretionary, and/or low price point component to their business. Realty Income's became publicly listed in 1994.